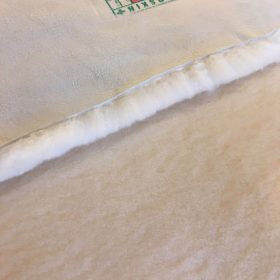 The order arrived today. Thank you for the prompt delivery! The medical lambskin is beautiful to touch and will provide superior conditioning and support for my elderly father. Appreciate the communication and great service. Highly recommended!
I ordered two Dark Green (Hi Temp Medical) Lambcare wheelchair seat covers. I ordered one for the wheelchair and one for an armchair. The seat covers are high quality, thick, soft and attractive. The service was great, the item arrived in two days and consequently I am a very happy customer
I just wanted to say the HUGEST thank you for the wool liner you created for our pram!! It's just perfect… !! We couldn't be happier, and your service and follow up was nothing short of outstanding. Thank you for the excellent experience – it is hugely appreciated
Want to thank you for both the product and the prompt service. I ordered the wheelchair seat lambswool, not that I needed it for a wheelchair, but it was just the perfect size for what I required.I had a hip replacement and was unable to lie on my side for six weeks, and after the first week the pain in my heels was unbearable and thus contributing to my lack of sleep. Once I received my sheepskin I then had no more pain in my heels, so it has been an absolute god send, it was perfect. Perhaps you should advertise it as such.
Just a little note to thank you for your lovely sheep skin seat belt covers…. They are wonderful for me.I am using them to wrap over the thick elastic of my back brace that dig into my under arms and cause great discomfort. With these lovely sheep skin covers it makes my wearing of the brace so much more comfortable & I feel very grateful for that. Perhaps you can add that purpose to your information for others who may have not considered this use; it has made an enormous difference to my comfort.
"Covers arrived yesterday and we are just thrilled with the work you have done on them, the arms and back just look fantastic and will make such a difference to our son's wheelchair and his comfort.
Thank you so much for completing them so quickly and sending them, they are of great quality and we love the little zipper bags you have put them in also.
We will save you your details for future projects and would highly recommend your services to others"